Kitchen Remodel with Big Payback
Kitchen Remodel with Big Payback.
Today's kitchens are the heart and soul of our homes. We love to cook, eat and entertain. Our family and friends can always be found hanging out in the kitchen. And, let's face it, we are either preparing the next meal or cleaning up from the last. We physically spend more waking active time in the kitchen than any other room in the house. 
So, if you are thinking about renovating your kitchen, know that you are making a very smart investment!
A major kitchen renovation can result in a return on investment of between 60 and 70 percent of the cost. The benefits of freshening up what you already have can also increase your efficiency and add new enjoyment to how you experience your home.
The kitchen renovation we are featuring here, started with "good bones". The layout was functional and the cabinets were in great shape. If the existing cabinets are in good condition but look dated, the most affordable option is to simply paint or re-stain them a new color. In this case, we replaced the 1970's gold hardware and painted the cabinets a fresh ivory white. Hiring a painting contractor that has good credentials and experience with refinishing is a must. If you are doing it yourself, make sure to do your homework to understand the refinishing process.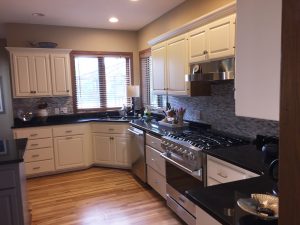 An excellent opportunity to achieve a powerful esthetic payback to your kitchen is to add a tile back splash. In our case, we choose to install a classic shape, glass matt wall tile that gives the kitchen an elegant, timeless style. I find it smart to select products that have "lasting esthetic power" for the items that are permanent. Leave the color and decorative items to paint, art, lighting, furniture and accessories. These are items that can be changed without too much effort or cost. You will thank yourself later.  In our case, we choose furniture, lighting and rugs that reflex a fresh, relaxed comfort, inviting everyone to stay a while.
 McGinnis Design is based in the great city of Madison Wisconsin. Check out more photos from this project and others on our portfolio page.